The world is facing an unprecedented combination of crises. You are seeing and feeling their impact on your own life. Climate change, economic recession, pandemics, the shrinking of civic participation space, are inverting decades of positive development trends, effectively pushing billions of us into precariousness, preventing too many to exit poverty, live a dignified and safe life, and to be fully part of the civic spheres of decision-making. These poly-crises are de facto excluding billions of us from being part of a shared global social, ecological, and economic transition.  But they are not only impacting us as humans. They are straining the biodiversity, the environment and the planet's shared resources, as we keep pushing planetary boundaries to the point of no return.
We are all in this together. The good news is that we also all have the power and the responsibility, as citizens, consumers, producers, decision-makers, to invert these trends and build a word with Zero Exclusion, Zero Carbon, Zero Poverty.
This is what 3ZERO stands for: joining forces across countries, generations, and sectors of work, to reinvent a society on a human and environment scale, safeguarding humanity and safeguarding our planet for the generations to come. And we won't stop until we have reached Zero.
Will you stand with us?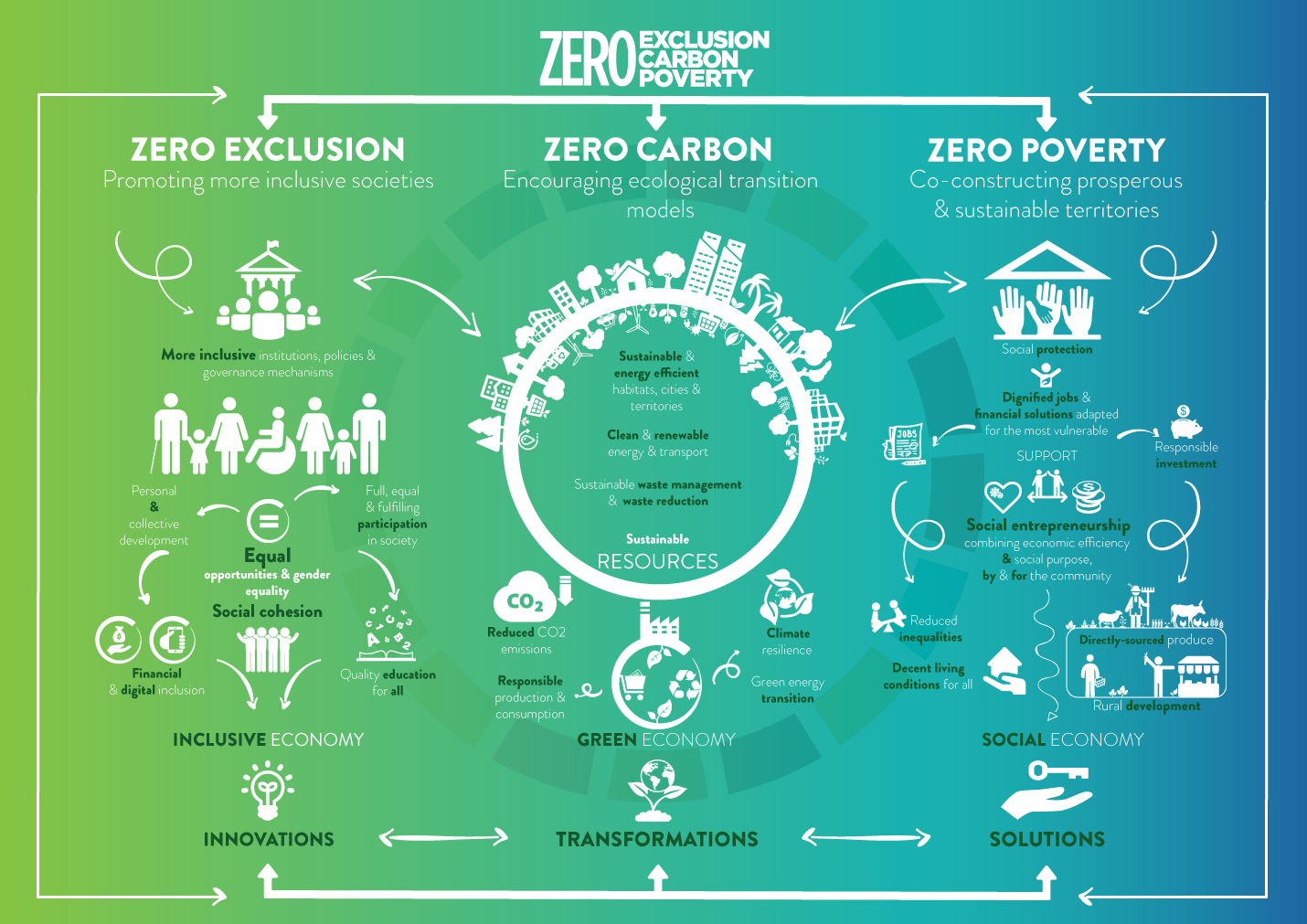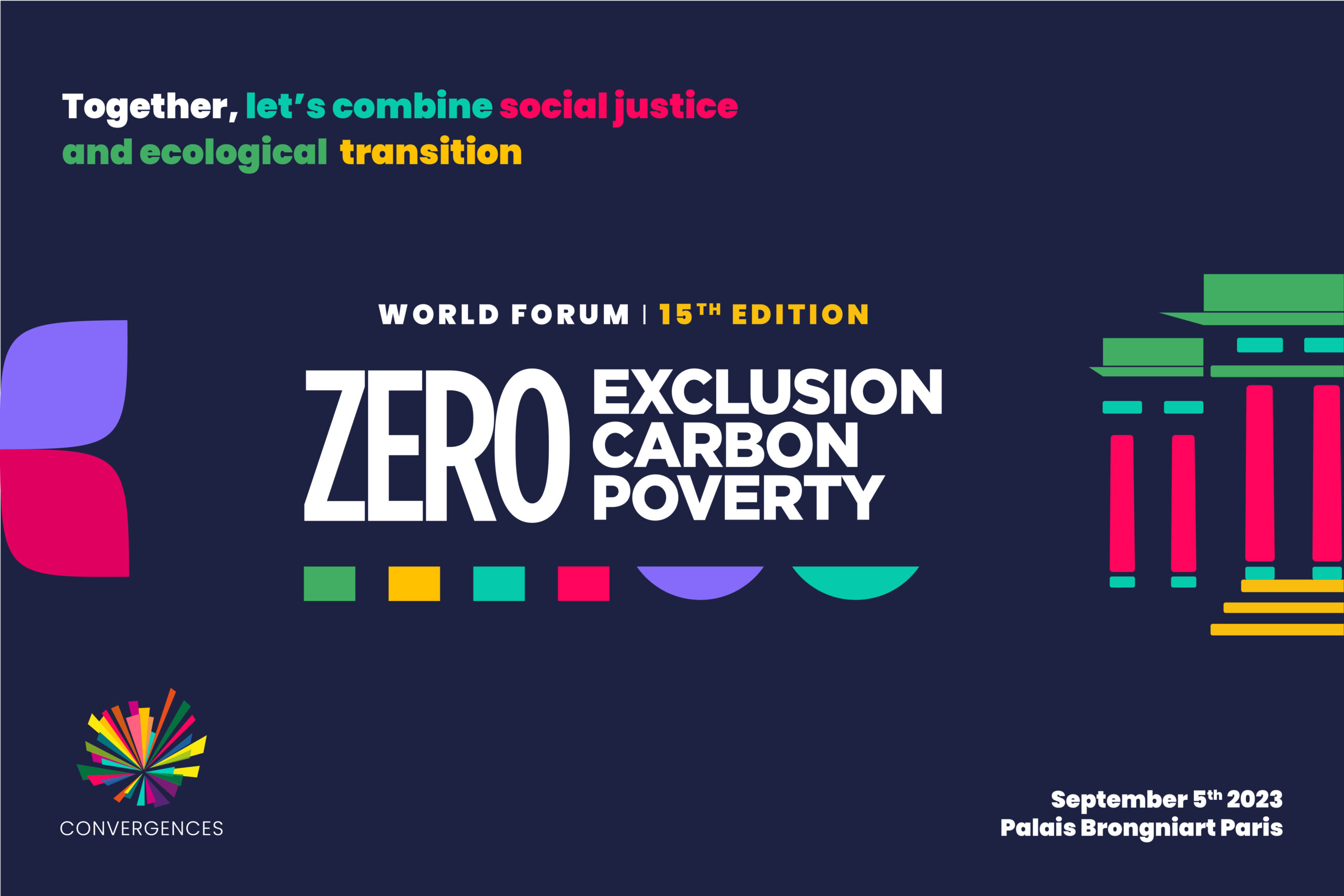 THE 3ZERO WORLD FORUM CELEBRATES ITS 15TH ANNIVERSARY!
The 3Zero World Forum by Convergences gathers every year thousands of professionals who seek innovative solutions to fight exclusion, poverty and climate change. The Forum offers experts and decision-makers a space for learning, networking and high level sharing to build answers to the social and environmental challenges, both in northern and southern countries. In 2023, Convergences' World Forum will celebrate its 15th anniversary.
For fifteen years Convergences has been calling together all those who act for change,
For fifteen years we have been betting on a collective response to the immense challenges of this century,
In fifteen years we have seen nearly 65,000 people from all over the world gather in this unique space for multi-actor dialogue.
Today, halfway through the 2030 Agenda, what kind of world do we want to build? What lessons have we learned from these years of collective reflection? How can we act together to finally bring about the changes needed to preserve life, fight exclusion and eradicate poverty? In line with previous editions, Convergences reaffirms its mandate of collaboration and collective action for the construction of a Zero Exclusion, Zero Carbon, Zero Poverty world. The objective will be to provide everyone, organisations and citizens alike, with the means and tools to think differently and act to combine social justice and ecological transition.
On September, 5th 2023, join us at the Palais Brongniart to exchange with your peers, create new connections and attend high-level conferences.

As part of the dissemination of 3Zero (Zero Exclusion, Zero Carbon, Zero Poverty) in France and internationally, Convergences publishes regular "3Zero" content offering an overview of structures and initiatives that concretely support 3Zero in the territories. This production concerns and is aimed at all actors of change (companies, public institutions, associations, NGOs, academies, etc.) who wish to contribute on their own scale to the development of a world of Zero Exclusion, Zero Carbon, Zero Poverty.
In parallel to the events organized by Convergences, the association offers throughout the year editorial and research content on topics as diverse as impact finance, social entrepreneurship, and sustainable solutions. While these publications are diverse in nature, the main ones take the form of Barometers.
Each Barometer is co-written with the help of contributors and partners, the latter also being members of the steering committees affiliated with the various Barometers. Alongside Convergences, their mission is to ensure that the progress of the publications is properly monitored by validating the strategic choices and defining the key themes of each edition. They also recommend contributors recognized for their expertise in the fields concerned.
As reference publications, the Barometers allow Convergences to position itself within its ecosystem.
Our purpose is to create a 3ZERO world, ensuring a just, ecological, and economic transition for all as well as the respect of planetary boundaries, by mobilizing millions of people towards a world without exclusion, carbon, and poverty. This will be achieved by fostering awareness, unleashing individual/collective action & innovation, overcoming polarization and enhancing solidarity and collaboration within and between individuals, communities, organizations, and countries – including through the creation of a 3ZERO Global Alliance. 
Through the 3ZERO Alliance, 3ZERO aims to mobilize private, public, civil society and innovation partners worldwide, to ensure a just social, ecological, and economical transition for the poorest 2 billion people, transforming the trade-offs between exclusion, climate change and poverty into win-wins for humanity and for the planet. 
The 3ZERO Alliance envisions to match organizational actions with global agendas to create real systemic change, enabling and supporting its members to co-construct a future without inequalities and discrimination, where we are winning the urgent fight against climate change and where poverty becomes a thing from the past. The 3ZERO Alliance enables its stakeholders to create connections, share knowledge and resources, and jointly drive positive change, by co-creating multi-sector solutions that can improve the lives of people and the health of our planet.  
The 3ZERO Alliance is empowering and supporting people and ecosystems, up to the last mile, by creating connections, unleashing potential, and fostering innovation.
CONNECT partners across sectors and countries, with the aim of breaking silos. It does so by building capacity for collaboration, and by fostering innovative partnerships to solve local/global challenges for a 3ZERO world.  
UNLEASH human potential through experience sharing, learning opportunities and capacity building with the aim to empower individuals and organizations to become actors of change, solving common local and global challenges, for humans and for nature alike. 
INNOVATE by promoting experimentation, piloting, and scaling of solutions to local and global challenges – bringing together actors across sectors and across borders to reach, with and through innovation, also the most remote and marginalized communities – enabling a just transition up to the very last mile. 
This will only become reality if we converge, joining forces across citizens from different generations and cultures, across the globe, across governments, civil society, and private actors, leveraging local knowledge and innovation to build, together, a Zero Exclusion, Zero Carbon and Zero Poverty World.